Hospital construction is a complex process. A hospital consists of several varied functional units like operation theatres, imaging centres and practical units like housekeeping, reception, canteen, etc. The builder has to obey several regulations and laws to construct a solid hospital. The design and construction should be planned in a careful manner. Several guidelines have been established by the Department of human and health sciences. It includes almost every feature of a smart hospital. It includes strategies on investigation rooms like endoscopic instrument dispensation rooms, gastrointestinal endoscopic rooms, etc. Every job including electrical, technical and mechanical tasks needs specialized expertise and knowledge.
Sri Devi Hospital is planning to construct a new blog in their hospital. One of the leading construction company- Besten has promised to offer the best plan and output to Sri Devi Hospital.
If you are expanding, renovating or repairing your existing hospital, you need to contact a leading construction contractor. There are several reputed contractors like KSV construction, Besten, URC construction, etc. You have to see their background, experience and portfolio to sign up for your project.
A hospital remains as a centre point where people visit when they experience accidents, emergency situation or suffer frommedical condition. It is the most important place that completely serves for sufferers. Hence, it is important to construct the building in such a way it endure and be functional in condition of major disasters such as floods and earthquakes. It is necessary to contact an experienced in this field to perform a task of such dimension. By hiring a professional and experienced construction company, you can be sure about the various procedures and regulations involved.
Healthcare designers and architects have an excellent chance to combine technology and architecture by creating engaging and dynamic settings that serve to the patient's individual needs and finding opportunities for administrators and staff that expand treatment options and how and where treatment is offered.
More Info About : How Should Hospital Employees Perform ESI Registration?
It is necessary to plan construction by using the latest technology as it helps to remain forefront to future care supply. When the visitors enter a facility that is developed to combine patient care, community outreach, education and research focus on endocrinology issues or diabetes can experience the advantages of future concentrated technologies more meaningfully on the medical floor of the structure.
Winthrop University Hospital Research and Academic Center will offer patients various features like round the clock access to medical records, registration, billing, scheduling, digital website for safety and access to educational materials using any connective device. The major resource is patient portal. It helps the entire building structure to use the latest technological features. Moreover, it offers data that combines the efforts of patients, reseachers and doctors to discover and plan the best treatment and prevention choices for each illness.
Check-in booths
Most patients register at central organisation. It takes long time for them to follow the queue, pay the bills and get registered with the hospital. To make the process simple, patient kiosks is the best option. It offers various advantages to patients. They can get registered using the digital connectivity. It provides onsite simple method of interface. The patients can make use of self service system through kiosk.
Moreover, they can complete the check-in through the kiosk. They need to complete online registration form by simply scanning their phone or taking a print out for reference. You can check into the hospital by using the bar code of kiosk. The patient flow management system helps to track room availability. It helps in reducing waiting time. The entrance of the floor will be designed in such a way the kiosk remains as centre of attraction. It will be placed between the circulation stair and elevator lobby but still near to open workstations. The patients can contact staff if they require assistance.
Connective furniture
At present, many family members and patients sit in waiting rooms with their mobile devices. They will use mobile or tablet for entertainment purpose, update personal health details, review, arrange or make future payments. The hospitals should make arrangements for internet technology so that patients can pay bills, review and update other information through their mobile phone.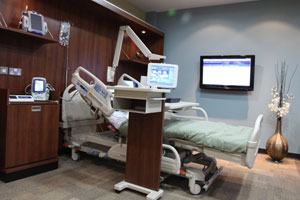 It is best to employ a high-speed connectivity. Most people complain of experiencing slow or no connectivity. They experience insufficient access for charging their personal devices. The waiting room can be enhanced with connective furniture, robust Wi-Fi system, mobile phone charging outlets, and more. The families and patients can experience excellent convenience and comfort apart from healthcare facilities.
Connectivity should be planned and integrated at the start of the project. You can get help from planning resource so that they will design the program as per your requirements.
Consult modules/hybrid exam
Technology helps healthcare designers to expand or design options for clinical, diagnostic and customer services. Technology offers a chance to reconsider standard space and to develop an optimized and streamlined environment. With careful planning, flexibility can be achieved between departments.
Summary:
The laws and regulations of hospital construction are detailed and intricate. You have to get help from a contractor specialized and experienced in hospital construction. They will understand your needs and implement accordingly. They will design patient's room according to the name of the ward. They will even give importance to window size, lighting and ventilation. If you approach a general contractor, he/she would not know these details. The hospital contractors hire specialized professionals to carry out each and every task.