Assisted living is not a new concept. It has been there for years. Sri Devi Hospitals is a leading hospital experienced in offering care and treatment for elderly patients. Care finder has collaborated with Sri Devi Hospitals to help assisted living patients. Most people think where and how to get in touch with assisted living homes or facilities. You can enquire with companies like Epoch Elder Care, Carefinder or Aamoksh to get solutions for assisted living and independent living homes.
Are you facing difficulty with daily activities like getting around your house, dressing, showering and shopping? It is best to approach assisted living facility. You can obtain daily assistance you require and at the same time remain independent. It is difficult to take a decision of leaving your home. Well, take some time, think about your situation and take a good decision. It is hard to find the right community. You have to stay honest regarding your concerns and needs. It is advisable to take an option that is suitable for you. Make sure your retirement or senior life remains fulfilling and happy.
Meaning of Assisted Living
It is a residential option given for seniors who need or want help to perform their daily activities. Due to their age, they would find hard to indulge in activities like preparing food, going to bathroom in night times, traveling to doctor appointments and keeping house neat and clean. They cannot do any task on own. They would require some person's assistance to do the task. There are several names given toassisted living. It includes;
Residential care
Sheltered housing
Alternative care facility
Adult care group
Adult group home
Congregate care
Board and care
It is a best option to get into assisted living if you require sufficient personal care services. You may find hard to get the assistance at independent living community or your home. At the same time, you would not require round the clock supervision and medical assistance as provided at nursing home.
Assisted living facilities provide security and safety of 24-hour access and support to care. If you need any help, you have to make a phone call. The professionals will come directly to your room or doorsteps. However, leading assisted living communities ensure to offer independence and privacy for the residents. If you are living in an excellent facility, you can be sure of their care and attention.
They will create a personalized strategy that meets your requirements and billet your disabilities. It gives freedom where you can do what you wish. You do not have to be a dependent or ask permission to do anything. In simple words, assisted living homes offer residential care along with sufficient care and facilities. It is a safe place for people more than fifty years old.
More Info About : Cloning Gene Therapy And The Coming Medical Revolution
You will be given different options like renovated schools, apartment complex or converted homes. You can choose a living space you feel comfortable and happy to live. The apartment style living facility comes with private kitchens, room, hall and balcony. If you want to choose a budget living facility, you need to share with other members of the community. Some people can pay highest cost. They can select individual apartments as their assisted living home. Most facilities have common areas and group dining area for recreational and social facilities.
What are the services offered at an assisted living facility?
The residents will be served three meals in the living facility's common area.
The professionals offer assistance with walking, visitingbathroom, dressing, bathing and eating.
Transportation
Housekeeping services
Access to medical and health services
24-hour security
Recreational and social activities
Laundry services
Medication management
Wellness and exercise programs
In each living space, emergency call feature will remain.
If you want assistance for scheduled needs or unexpected issue, you can contact staff members for assistance.
Do you think that it is right for you?
If you are confused whether assisted living facility is best for you, please read the following questions.
Do you require more assistance than your friends and family members provide?
Some people will feel their daily activities overwhelming and stressful. They would not get in-home or family assistance. Though they receive, they would not feel their assistance sufficient. If you are facing this situation, assisted living is the right option.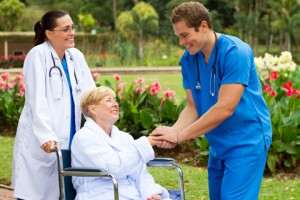 Do you feel isolated or lonely at home?
It is important to have active social life. It is good for your happiness and health. When you stay alone most times in a day, you may suffer from depression. The best feature of assisted living is social and recreational activities. Excellent facilities provide a range of recreational and social activities. Moreover, when you live in the community environment, you have a lot of chance to meet new people and make new friends.
Are you concerned about your safety?
Since you cannot run or walk or experience limited mobility, it remains hard to come out of bed. You may need someone's assistance for getting out of bed. For instance, you may have deep worries about what would happen if you fell while getting up. You would think of other problems because of getting up. This may stop you to get up on own. Assisted living facilities offer home-like atmosphere. You will get complete assistance for cooking, doing laundry, shopping for groceries and cleaning.
Is transportation a problem?
If you are having trouble with driving or could no longer drive, you would find hard to purchase things or move out of your choice. Though you call and use public transport facilities, it does not remain convenient and easy all the times. Assisted living facilities offer transportation services where you can go you wish without depending on family members and friends.