Some industries like hospitality industry remain active and fiercely competitive. The business owners keep changing their structure, management style and design to offer best services to customers. In hospitals, the patients act as customers. It is necessary to offer them right treatment and services to keep them satisfied. If you disappoint patients in form of treatment or service, the hospital can develop a bad image in public. Nowadays, hospitals are switching to latest software and program. It helps the management to fetch data quickly and easily. Sri Devi Hospital uses Cloud based hospital information management system from Cloud Solutions India. It is an excellent approach to meet business requirements. You can get comprehensive data in quick time for reasonable price. Cloud based management system helps the hospital industry to stay on top of the technology advancements. Moreover, the cloud applications help the professionals to access information anytime and from any place. They can access through user friends user interfaces for affordable price.
Several companies like Capterra, Cloud Solution India and Akhil System are offering cloud management solutions to hospitals. They integrate Salesforce technology so that the hospitals can remain ahead of other businesses in the market.
It is challenging to design cloud-based high performance, scalable, reliable, cost effective and flexible IT enterprise and infrastructure application according to the user basis to offer affordable and quality healthcare to customers and to handle the fast development of the organisation. Recently, Sri Devi Hospital has selected Cloud Solutions India as their partner to offer cloud-based IT enterprise and infrastructure hospital information system for its scalability, reliability, affordability and flexibility of the solution.
The hospital can enjoy various benefits like minimal operation expenses, no maintenance, no capital investment, increased flexibility, high availability and option of freeing the company from dealer lock-in, reduced systems maintenance, simplified management, decreased IT costs, increased performance and scalability and higher customer satisfaction. Moreover, the organisation can also see better customer relationship and revenue management. www.dhii.in offers advanced cloud-based hospital information system to offer affordable healthcare services.
More Info About : Trp To The Nearest Medical Facility
What are the features of Cloud-based hospital information management system?
Online PHR and EMR management
Customization of workflow and features
Online GP PM (Practice Management)
No service charge and licensing cost
It supports standards such as HIPAA, HL7, RIS, DICOM PACS, CPT, and ICD-10.
Licensed based and subscription based deployment
Health information exchanges and secure collaboration
Online RIS and DICOM PACS for radiologists
Online sales analytical and drug advertising by pharmaceutical
Hospital warehouse and inventory management
Patient healthcare provision by joining among networks of hospitals, pharmacy, lab and physician.
Provider RCM (Revenue Cycle Management)
Online HIMS (Hospital Information Management System)
Online LIS (Lab Information System)
Healthcare delivery system circumstance management
The healthcare IT functions are performed using unique SaaS platform using patient EHR, EMR over internet from any part of the world and at any time.
Single stop cohesive solutions through the internet bridge the gap between pharmacy, labs, patients, hospitals and doctors.
Solution:
Cloud-based IT technology and solutionis selecting since it can scale cost effectively and quickly across multiple regions. If you are running hospitals in different locations or have branches, you can integrate the single software in all hospitals.
It has less data entry and screen requirements for transactions. The nurses can get training and start to use the system.
Effective expense and revenue management.
The information remains available across the organization. You can effectively use the information from worker specific dashboard.
System modified to follow worker's laptop and notebook as carefully as possible for ease of use and familiarity.
Automatic triggers and workflows systematize the reminder practice for periodic visits and checks.
Results:
Increased information availability throughout the organisation.
The entire hospital team can share information simply in the cloud. No matter, you are located in other part of the work or far from your work place, you can see the changes and developments occurred in the organisation in single click. Each individual will be given username and id. They can login and see the information from dashboard. They can customize the settings as per their requirements.
Better process and expenses control.
The software will give reminder calls to patients by noting their last visit and next visit. It will automatically make reminder calls for check-ups.
Increase of revenue. It is estimated that the advanced system can increase revenue of about 15% by the end of the year.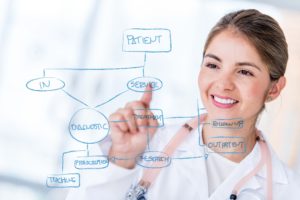 Centralized data:
Cloud based applications centralize entire data and preserve in the cloud. It enables simple access to data. In hospitality industry, timing is important. The cloud technology helps the team to get right information at quick time. Single and quick point of admittance to information helps in great way for productive activities. The management can save time by stopping to worry about managing several information systems.
Minimize costs
The best part of cloud solutions is you can pay as you use. You do not have to pay unnecessarily. It helps in predicting your project's accountability and operational cash flows. With upfront capital investment and low risks, cloud technology makes it simple for business to use technology to help clients better at reasonable cost. The hospital can remain price competitive by adopting cloud technology in their system.
Value your time
By integrating cloud-based services, the hospital industry gets a chance to gain best ROI (return on investment). Low operational and capital expenses along with simple customizable solution help the developers to concentrate on customizing the functionality and features of the application according to the changing business requirements.